STAY SAFE HOSPITALITY!!
We Were Clean before Clean was THE thing!
I come from 4 generations of obsessive-compulsive cleaners.
It started with my great, great grandmother who washed clothes with boiling water and lye – no germs dare enter the house. Then, my great grandmother ironed my great grandfather's underwear – seriously. My grandfather used the white glove test every Saturday and if anything stuck to the glove, my mom had to dust the entire house all over again. (No telling where the dust came from.) Finally, my mother – true story – washed out the inside of our furnace with Fantastic, reasoning the air would be cleaner if the inside of the furnace were. She also made my dad hose off the Christmas Tree before he brought it into the house – those pesky pine needles and other twigs of nature could not be allowed. There are other stories which cannot be printed here…this is public after all!
Suffice it to say, when COVID 19 arrived we thought we were in fairly good shape. But when we read the bulletins from the hotel and hospitality industries we found there were things we just had not thought about. Thus, armed with new information and a renewed sense of urgency we have updated our protocols.
Safety First
Here they are in a little detail. You can't relax unless you truly feel safe. We hope these will put your mind at ease:
We will not shake your hand or hug you (We don't hug strangers but do many who have stayed with us before – it's actually one of the perks of owning a B & B). Again, this is really difficult, but we are trying to play it safe for all of us.
We will not walk you to your room. It's not that we don't want to, but we want to make the distance between us as far apart as possible. If you need help, please let us know in advance so we can prepare to take your luggage up- gloves and hand sanitizer at the ready.
Given my history, our staff have always focused on cleanliness at The Belvedere Inn. We are fortunate, because we hire only those with a little OCD themselves which assures you that we mean business!! Our staff clean each room and then disinfect after they've cleaned all surfaces. Then I check each room to make sure everything has been thoroughly nuked. We pay particular attention to high-touch surfaces – light switches, doorknobs, handles, remotes, handrails, etc.
While we have not replaced our shampoo, soap, and hand cream dispensers with single use ones, we disinfect them after each guest. Makes no sense to add to our environmental problems while trying to keep safe from this one. Our staff wear masks and disposable gloves to clean each room, discarding them before moving on to the next task. That ensures they don't carry germs from one room to the next.
We have removed extraneous items in our rooms. We've removed The Visitor's Guides, magazines, and books. We have also removed decorative pillows, robes, additional towels, Q-tips, cotton balls and any other non-necessary items you might touch. If we can't wash it, it is taking a vacation in an empty closet. If you want more towels or robes, Visitors Guides, etc., just ask us and we'll be sure to put them in your room before you arrive.
We will not fluff your room daily if you are staying for longer than a night. But will be happy to provide you with more towels or any other items you need. If you need your garbage emptied, please put your garbage can outside your door and we'll take care of it.
We sanitize all dining room and billiards parlor surfaces too as well as outside tables and chairs.
We have placed hand sanitizer in each room and in the kitchen, little half bath on the first floor and billiards parlor. Please use as you like.
Your room key has been sanitized before you arrive. It will be sanitized again when you leave.
Here is a picture of Maura – on the floor with a toothbrush – this was not staged! Bob caught her by surprise. It's how we do things!!
Flexible Cancellation Policy
Make your reservation for any dates with confidence…if you aren't comfortable traveling, you can cancel any time, no cancellation fee!
Breakfast Seating
This has been the most challenging thing of all. We are a traditional, common table B & B. It means sitting down with people you have never met and breaking bread. It means rubbing elbows – literally – with 8 or 10 strangers. People LOVE IT! I LOVE IT! On most mornings, people are still talking and laughing at 10:30am when breakfast was served at 9.
I DON'T WANT TO CHANGE THAT!
So, how to keep that atmosphere, and that experience alive without putting people at risk or making them feel uncomfortable?
The table is large enough to seat two couples at either end and still maintain social distance.
We can seat two other guests at the peninsula – like an island but with three sides – trust me it's fabulous! Which is right beside – yet 6 feet away from the big table.
We have another table where we can seat two to four. About 8 feet from the big table.
We can seat two groups of two outside on the porch.
We will keep experimenting with seating until we get it right…until you feel comfortable and I don't run myself ragged running from one end of this huge house to the other or look like this…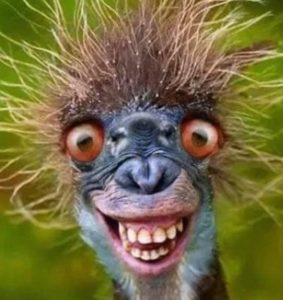 Not good for future bookings if I look like this!
Breakfast as you like it!
You can request a different time from our normal 9am breakfast time. If we can accommodate you, we will. If it's a full house, please don't expect it. Making breakfast for 12 is a big enough deal –
If you stay at Scoundrels' Inn, we can make you a continental breakfast and serve you there.
And don't forget to let us know if you are allergic or have other food restrictions!
So, stay tuned. We'll keep you posted as we accommodate our new normal. Someday, we'll be able to shake hands and hug again. Until then, stay safe. We hope to see you soon.
When you're ready, we'll be here!!