The Belvedere's Guest Rooms
We have four distinctly different guest rooms at The Belvedere Inn, each of which provides a unique experience. Take a peek:
The Alfred Lamb
This room is named in honor of the first owner of the house, and is designed for  those who want-to-be King or Queen or whatever royal personage one imagines! Sleep on a huge, king sized, four-poster Ralph Lauren bed reminiscent of faraway places – mysterious, sultry, lavish, decadent. Relax on overstuffed eggplant velvet chairs while watching TV or reading or contemplating how in the world all the stuff in the house gets dusted! (Sorry about all the exclamation marks – I get so excited!)
Start at $180
The Lucy Munger
This guest room is named in honor of the wife of the second owner of the house – Lyman Munger. It combines a bit of whimsy with a lot of comfort…two double beds – one brass, one iron, -with two overstuffed chairs for relaxation or nodding off, combined with mixed painted furniture, and a fabulous Tabriz rug. Fun for the girls or for a couple who like plenty of space…this is our happy room! (Not to imply that the others aren't happy – it's just that this one is a bit happier- oh, you'll just have to see it)
Start at $150 for one; $185 for two.
The Jenny Joseph
This guest room is named for the wife of the third owner of the house…and is a calm oasis, with a bit of sunshine…an iron queen sized bed, comfy chair with artwork galore. This is the room for sleeping in or rainy days…or- well, use your imagination…
Start at $150
The Belvedere
In Italian, belvedere means beautiful view and our signature suite is the perfect definition. It is a two story picturesque retreat. The first floor features a large bathroom with two person shower, double sink vanity and a claw-foot tub;  a sitting room with a couch and comfortable chairs, a small refrigerator and individual Keurig coffee maker. The art gallery features original prints and photographs by local artists. The top floor boasts a a king-sized bed, and two comfy chairs for taking in the best view of the Mississippi River Valley enhanced by a vintage, tri-pod telescope with Hurricane candles for romance. Sleep in your very own tree house.
Start at $230
Scoundrel's Inn Guest Rooms
WE ARE VERY HAPPY TO ANNOUNCE THE NEWLY OPENED 1840-1859 SCOUNDREL'S INN GUEST ROOMS!! NO STAIRS TO CLIMB!! Please note that Scoundrels Inn may be undergoing renovations on the outside of the house.
Henry's Room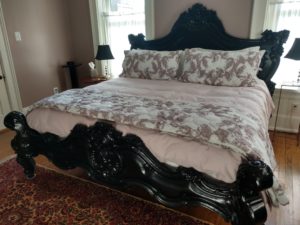 We dedicate this room to Henry, a 36-year-old Black man who, in 1870, lived with Alfred Lamb, the owner of what is now The Belvedere Inn. While we do not know that Mr. Lamb owned Henry in 1860, we can be certain that Henry was enslaved by someone at that time. His work made Hannibal possible.
Decadent! Scrumptious! Dream away in this luxurious king-sized mahogany, hand-carved Royal Fortune Montespan French black lacquered platform bed from Fabulous & Baroque! The ultimate in Royal treatment. Sip wine to the roaring gas fireplace! Refresh with a soothing two person, walk- in shower. Read a book, watch TV and simply relax. You will be soooo happy! How fun!!
Start at $180
Jenny's Room
This room is named after the dear slave that Mark Twain's family "lost" to William Beebe in 1840. Beebe was an unscrupulous slave trader who sued Clemens and received Jenny as chattel from the Sheriff's sale. Beebe was just one of many early "SCOUNDRELS" who owned this piece of property. 
But today, this room is an oasis of serenity with a huge king-sized black metal bed with a burlap bed skirt…beyond comfy chairs for chats, wine or your favorite game. The light in this room is lovely – soft and pearly even in the heat of summer. A little bit of country with a little bit of chic. More importantly, there is an en suite bathroom in white subway tile – large enough for two. Once guest called them shower cabins. I think I'm going to steal that!!
In addition, Scoundrels Inn provides a lovely common room for lounging plus a complete, "tiny" kitchen for guest convenience.
Start at $180
All our rooms feature:
Private, 2 person bath with subway tiled showers
Belvedere Inn reusable water bottles…they're yours to keep!!
Shampoo, Body Wash and Lotion by Gilchrist & Soames
Lovely Spa Bathrobes
Fabulous high thread count linens
Hand pressed pillow cases
Down comforters plus down and non-down pillows
Air Conditioning
Bed chamber ceiling fans excluding Jenny Joseph & Scoundrels Inn
Comfy Sitting area
Smart TV's with remote, DISH &  Netflix – Roku in Scoundrels
Alarm Clock
Complementary Wi-fi
Place/desk for writing
Personal closet
Hair Dryer
Charging stations with two USB ports
Iron and ironing board available by request